Which Is The Best Juicer For Greens?
Looking for the best juicer for greens? You have come to the right place. So, what makes a juicer great for greens? Well, there are a few things to consider. This review will look at the best juicers ideal for juicing any greens and leafy vegetables..
When you want to juice greens, finding the best juicer can make all the difference to your juice's taste and nutritional value. You need to evaluate a couple of things when selecting the best juicer for greens, including the type of greens you will be using, the quality and yield of the juice, and ease of cleaning. The best type of juicer for greens is the masticating juicer. This type of juicer uses a slow-pressing method, resulting in higher-quality juice with more nutrients and less oxidation.
It also efficiently extracts juice from leafy greens such as kale and spinach, which can be problematic for other types of juicers. Another option is the centrifugal juicer, which uses high-speed spinning blades to extract juice quickly. While this type of juicer may be less efficient in extracting juice from greens, it is generally less expensive and easier to clean. Ultimately, the best juicer for greens will depend on your individual needs.
So you will want a juicer that has a powerful motor. This is important because greens can be tough to juice, and you don't want your juicer to bog down halfway through the process. Another important consideration is the size of the juicer's feed chute.
Greens can be bulky, so you'll want a juicer with a large feed chute that can accommodate them. Some juicers come with a separate attachment for juicing greens, which can be handy if you plan to do a lot of juicing. When juicing greens, look for recipes that include other ingredients to offset the bitterness, such as sweet fruits or citrus juices.
Triturating Juicers Are Good For Greens
Triturating juicers are also known as twin gear juicers. Triturating juicers are considered to be the most advanced type of juicer available in the market. They utilize a unique twin gear processing system, which sets them apart from other juicers. See triturating juicer on Amazon.
These twin gears, made of high-quality stainless steel, interlock with each other to crush and grind produce at a slow speed. The slow speed of the gears ensures that the nutrients, enzymes, and minerals are extracted and preserved to the maximum extent possible.
The result is a juice that is not only rich in nutrients but also has a longer shelf life. The interlocking twin gears in triturating juicers work together to produce a pulp-free juice that is packed with nutrients, enzymes, and minerals.
The gears rotate at a slow speed, which ensures that the produce is ground thoroughly, extracting maximum juice while leaving behind dry pulp. This twin gear system also produces less foam, which helps to preserve the nutrients and enzymes in the juice.
Additionally, triturating juicers can process a wide variety of produce, including leafy greens, fibrous vegetables, and even wheatgrass. With its efficient and thorough extraction process, triturating juicers are an excellent choice for anyone looking to get the most out of their produce.
If you want to get great-tasting green juices, you should look at this juicer for leafy greens.
To start with, a masticating juicer is the best juicer for greens and hard vegetables due to the way they process the produce. They are the best juicers for a raw food diet and the best type of juicer for greens overall.
If you're juicing you should only consider cold press mastication juicers. They provide the best nutritional value from your greens. So always make sure you use a low-speed juicer when you are juicing greens. You are able to squeeze all the goodness from your greens by using the best juicer for greens.
You could decide to use a manual juicer and this is a good choice as well. By using a manual juicer, you'll need to be a little more patient and have stronger hands to get all the goodness from your greens. But it's worth it! Manual juicers help preserve vitamins and minerals better than electric juicers, so you'll be getting the most out of your fruits and veggies.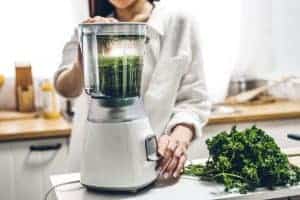 The low speed of masticating juicers ensures that you do not lose nutrients and enzymes. These can be lost to heat or pointless oxidation which happens when juicing with centrifugal juicers. So definitely choose a masticating juicer if you want to get the best juicer for greens.
They seem a little complicated when you open the box and there are a couple of pieces you may have never seen before. but if you follow the directions the very first time you will never need them again. The juicing process is quite simple.
Cut up your vegetables so they fit down the chute and juice away. Since a masticating juicer works so hard to extract juice, it does juice quite slowly. A masticating juicer is the best juicer for greens. Best Vegetable Juicers – 9 Juicer Reviews and Top Picks 2022
It is a wise idea to alternate between soft and hard vegetables. Doing so makes it a little easier for juicers to squeeze out every drop of juice.
Recommended Best Juicer For Greens
1. Tribest GS-1000 Greenstar Original
Tribest GS-1000 Greenstar Original is ideal if you want to get the most out of your fruits and vegetables. The slow, cold press process preserves living enzymes and nutrients, resulting in fresh, healthy juices. This juicer uses a slow, cold press twin gear extraction process of 110 RPM.
The HD Twin Gears use magnetic and bioceramic technology to extract nutrient-dense juice that you can store in the refrigerator for a longer time.
This juicer can do it all–from making delicious sorbets and pasta to grinding nut butter and baby food, and even breadsticks!
The Tribest GS-1000 Greenstar Original juicer is easy to clean! The simple assembly allows for easy cleaning. It comes with a cleaning brush so you can keep it looking great!
The Tribest GS-1000 Greenstar Original juicer is a top-quality product that is built to last. With an easy pressure adjusting knob, carrying handle, and automatic pulp ejection, this juicer is versatile and easy to use. It also comes with a 5-year warranty, making it a great investment for your kitchen. Tribest believes that everyone should have access to healthy, fresh juice, and this juicer is a great way to make that happen.
2. The Mueller Austria Ultra Juicer
The Mueller Austria Ultra Juicer is a great juicer for juicing big pieces of fruits and vegetables. This sleek, modern juicer has a small footprint but packs a powerful punch, comparable to larger and more expensive juicers, but at a fraction of the size and cost. In just seconds, you can create a 16 oz cup of juice with less clogging and foaming.
Two-speed Versatility
With this dual-speed juicer, you can easily switch between 12000 and 15000 RPM for softer fruits like oranges, apples, grapes or tomatoes. To juice harder fruits like carrots, celery, beets, kale, ginger, and more, the juicer runs at 15000 to 18000 RPM.
Clean-ups are quick and easy!
The Ultra Juicer's cutting disc is made of culinary-grade stainless steel and is surrounded by a micro-mesh filter. This design extracts more juice, vitamins, and minerals from fruits and vegetables, and is easy to clean and assemble.
Special Features
The extra-large feed chute prevents spillage and makes it easy to add ingredients while the juicer is running.
The safety locking arm keeps the cover in place during operation to prevent accidents.
The overload protection system automatically shuts off the juicer to prevent overheating or damage from an unstable power supply.
Customer Care Promise
Mueller is committed to making your life easier and more enjoyable. They only offer quality products that they know will bring you nothing but the best results. If you have any issues with your Ultra Juicer at any time, please don't hesitate to contact them or any of their authorized sellers. They will be more than happy to help you out!
The price and quality of this juicer make it a very good choice for juicing fruits and leafy greens.
3. Omega H3000D Cold Press 365 Juicer
Slow-speed masticating juicing at 90-110 RPM preserves nutrients by minimizing heat build-up and oxidation.
One of the most effective ways to easily get the nutritious enzymes and antioxidants that boost immunity and enhance overall health is through cold press juicing. By using a cold press juicer like the Omega H3000, you can help ensure that you are getting the most out of your fruits and vegetables and reaping all of the benefits that they have to offer.
Get a juicer that is BPA-free so you can have peace of mind and healthy juicing.
This juicer is perfect for extracting juices from celery, carrots, leafy greens, and other fruits, vegetables, or wheatgrass. With its versatile design, it makes it easy to get the most out of your produce.
This product is easy to clean and use. Cleanup is easy with a rinse, and most removable parts are top-rack dishwasher safe (excluding the drum).
The juicer is made up of several parts: the housing, juice container, pulp container, auger, drum, end cap, fine juicing screen, coarse juicing screen, hopper, brush, and plunger.
Final verdict
Juicing is a healthy way to enjoy your fruits and vegetables. Adding leafy greens and wheatgrass to your juice can make it more nutritious and give it some extra flavor. Depending on your needs, you can find the best juicer for juicing greens you can use to make green juice.
Best Juicers For Green Juices
If you're thinking about getting the best juicer that is specifically designed for greens, I recommend The Mueller Austria Ultra Juicer. It is an easy-to-use juicer that is ideal for beginning juicers. Definitely one of the best juicers for greens out there.
It is easy to clean, and the motor runs quietly to prevent loud noises. This best juicer for leafy greens will provide lovely nutritious green juice for you.
Why Green Juices Are Good For You
Green juice provides your body with fresh vitamins, minerals, enzymes, and proteins that are simple to assimilate. The vast majority of us cannot possibly eat enough greens and vegetables to acquire the nutrients our body thrives on.
Drinking green juice is a good way to enhance your diet and your energy levels.
With a bit of practice and lots of taste testing, you'll shortly be producing green juice that tastes so good; you will be compelling everybody to try it. You'll require a good juicer and a visit to the local farmer's market or grocery store to get your greens.
So if you have a juicer that has been gathering dust, blow it off and prepare yourself for some tasty drinks.
If you have a good juicer, it can be the best investment you have ever made in your health. When you're ready to purchase your greens and vegetables, there are some things to bear in mind.
Who'd like to eat something that has been doused in a tub of chemicals, chosen way before its time, and sent from another country? You deserve better than that.
How to Juice Leafy Greens?
Kale, collard, beet greens, and lettuce are all excellent choices. Stay away from more powerful types like turnip and mustard greens your very first time, because these tend to overpower your juice with a sharp taste.
If you're not certain which vegetables to select and you're a small market rebel, pinch off a small bit in the shop and taste it.
If you don't like the flavor of the foliage, odds are you won't drink the juice. Also pick up some celery, cucumber, and shoots if available. To sweeten it up, choose some slightly under-ripe pears, Asian pears or apples are good.
Juice it up. Wash all of your veggies and fruits thoroughly.
Begin by juicing a few handfuls of every type of green, a few cucumbers, sprouts, some broccoli, and cabbage. Keep adding fruits till you sweeten the juice to your liking.
Play with this back and forth between the flavor and sweetness until your container is full. When completed, add just a pinch of salt: This may bring out more flavors in your green juices. Below you can find details of the best juicer for greens.
What is the best juicer for kale, greens, or wheatgrass?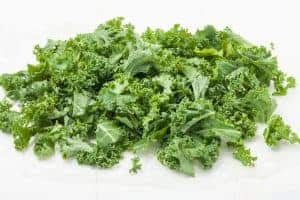 The best juicer for kale is a masticating juicer. If you want to juice wheatgrass see a review of the best wheatgrass juicer here. Kale, spinach, and other leafy green vegetables are lightweight. These types of vegetables are not very dense. As a result, you have to "squeeze" the juice out of them. You can use slow juicers like the Omega masticating juicer for juicing kale.
Which is the best juicer for greens? Take your pick from the juicers above. A masticating juicer is the best juicer for juicing leafy greens. Avoid a centrifugal juicer which is better for squeezing juice from fruits. A good quality cold press juicer can make juice from fruits and vegetables and is a better buy. For the best greens juicer you can check out the reviews here.