Best Masticating Juicer
The best masticating juicer may cost you a pretty penny, but fans of this type of juicer believe the cost is well worth it. There are two main types of juicers on the market: centrifugal juicers and masticating juicers. A masticating juicer is also referred to as a slow juicer or a cold press juicer.
Centrifugal juicers use a spinning action, or centrifugal force, to extract juice from fruits and vegetables. The best masticating juicer uses a chewing action, much like you chew your food, to extract juices.
Unfortunately, masticating juicers are more expensive than centrifugal juicers. The reason involves the process behind the juicing. Both types of juicers take in the food from the top.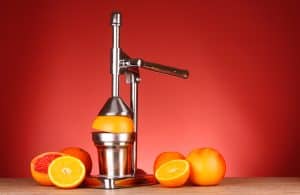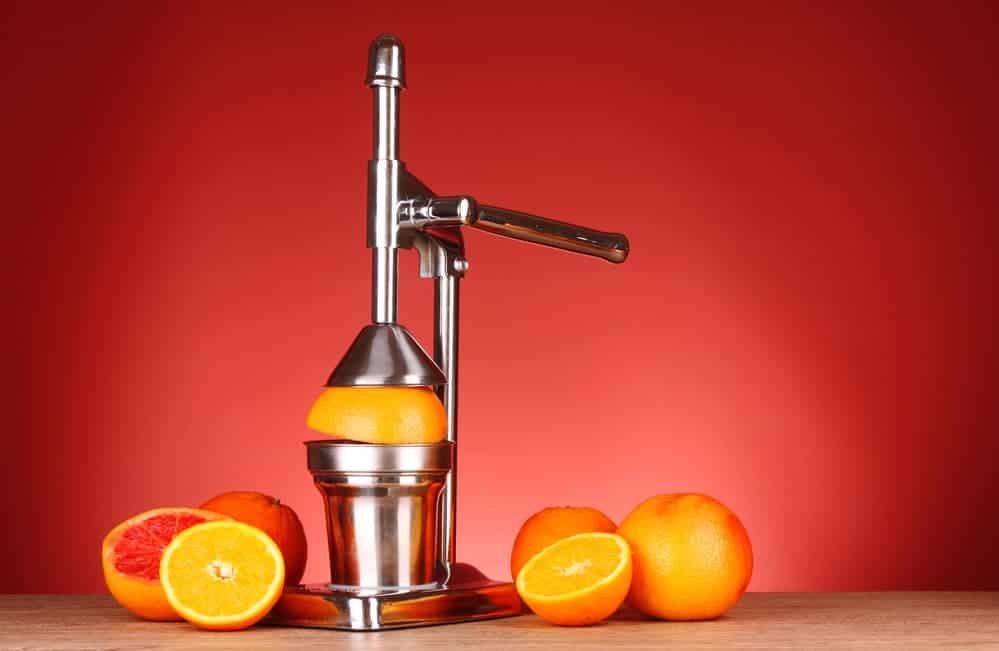 Centrifugal juicers work faster, and you have a cup of juice in no time. The fast-spinning of the centrifugal juicer heats up the juice and adds oxygen. Both the heat and oxygen mean the juice has a smaller shelf life and more nutrients evaporate into the air.
Masticating juicers are slower, but they extract more juice and more nutrients while leaving the pulp behind. You might hear masticating juicers also called cold-press juicers or slow juicers but they are essentially the same.
Here are some selling points to look for when it comes to masticating juicers, followed by 3 of the best on the market today.
Find the best masticating juicer that suits your needs from the reviews below.
Masticating Juicers Explained
Masticating juicers have a few things going for them that centrifugal juicers may not have. Here are some of the main aspects to examine when choosing a masticating juicer.
   Using The Masticating Juicer 
Masticating juicers should be able to turn just about any fruit or vegetable into a pulp. Some of the best masticating juicers have add-ons that allow you to process citrus, leafy greens, and other tough-to-juice items.
When you turn more items into juice, you get a healthier drink with better nutrients. Because you want your freshly squeezed juice to taste great, a more versatile masticating juicer means you get a product that's nutritious and delicious.
Juicers may also have attachments that help turn nuts into nut butter as well as a mincing function for herbs and spices. Some juicers can even grind coffee with the right attachment.
Look for the best masticating juicer that touts the ability to turn anything it touches into a liquid or very fine particles. Then it needs the quality to back up that statement.
Look for several attachments
See if the masticating juicer can grind just about anything
   Cleaning The Masticating Juicer
Masticating juicers use teeth to grind juice out of fruits and vegetables. These teeth can be hard to clean, but they are a vital mechanism that makes this entire type of juicing worth it.
Look for a masticating juicer that is easy to clean. Some of the best slow juicers use a self-cleaning function that cleans the apparatus before you send fruits and vegetables through the mechanism.
After you're done juicing, you clean the main part of the juicer in the sink with hot, soapy water. The juice reservoirs might be dishwasher safe, but the bulk of your masticating juicer needs regular hand washing to maintain its efficiency.
Self-clean options make it easier to clean
Make sure you can clean the teeth
  The Capacity Of The Masticating Juicer
Juicers might have wide ranges of capacity. If you're going to spend upwards of $250 on even the least expensive masticating juicer available, you may as well buy the best masticating juicer that produces a lot of juice at once.
Here's why:
Fresh juice from fruits and vegetables extracts tons of beneficial vitamins and minerals from these foods. When you drink more juice, you get more nutrients out of your foods.
You may as well get a high-capacity juicer so you get higher amounts of nutrients in one sitting. An extra half cup or a cup of juice can add even more power-packed items to your daily diet.
Some masticating juicers have a large capacity
Try to get the largest one you can so you can get as much nutrition as possible
  Speed of the juicer
Although centrifugal juicers are faster, masticating juicers can still produce juice in a very short amount of time. Choose a masticating juicer that makes a lot of juice in a short amount of time for you.
The best masticating juicer has variable speed selections for when it shreds soft fruits and vegetables versus hard ones. It takes lot less power to juice a tomato or strawberry versus celery or cantaloupe.
Powerful masticating juicers should be able to juice anything
Find a slow juicer that has several speed settings
Other Considerations
Pulp: Masticating juicers may come with different pulp screens that filter out the pulp from the juice. Finer screens leave behind more pulp, while screens with larger holes put more pulp in the juice.
Quiet: If you have other people asleep in the house, a quiet masticating juicer is the way to go.
Price: Masticating juicers are more expensive than centrifugal juicers. Expect to pay $250 on the low end versus more than $500 for a high-end masticating juicer, although the popularity of these juicers may drive prices down.
That being said, it's time to examine 3 of the best masticating juicers you can buy today so you can choose a masticating juicer for making your juices.
1. Omega J8004 Nutrition Center Masticating Juicer
Editor Rating:
Omega's J8004 is the smaller cousin to the J8006, yet it is just as powerful.
At 80 RPMs, it squeezes every bit of juice out of fruits and vegetables, and it does so quicker than comparable masticating juicers.
The combined auger, torque, and motor create the equivalent of a two-horsepower motor.
Omega touts a two-stage juicing system that extracts as much juice as possible. First, it crushes and fruits and vegetables. Then the pulp is squeezed in the second stage to extract even more juice. 
The juice comes out of the bottom spout, while the pulp goes out of the extruder end.
Much like the other Omega juicers in this review, the extruder creates pasta, nut butter, salsa, baby foods and smoothies with ease as a versatile food processor. Four tiny plastic feet keep this juicer above the countertop. This juicer could be the best masticating juicer for its versatility. Definitely one of the better masticating juicers to consider getting.
PROS
Easy to assemble and clean
Quiet motor
Versatile
CONS
Heavier than most vertical juicers
2. SKG New Generation Anti-Oxidation Slow Masticating Juicer
Editor Rating:
SKG comes through again with this beautiful New Generation slow masticating juicer.
The juicer comes with a massive 250-watt motor to handle even the toughest of vegetables at 43 RPMs.
The chute is 3.15 inches wide, so it can handle larger fruits and vegetables.
Much like the other SKG model in this review, a valve keeps the juice inside until you're done juicing.
This reduces oxidation of the juice before it even hits the cup. A stainless steel filter on the inside separates the juice from the pulp. The pulp goes off to one side while the juice comes out of the front spout.
The foam and pulp are filtered out by a second filter. For Amazon customers, free tech support is included.
You get a 30 days Amazon backed return policy. After that, the manufacturer has a two-year warranty on parts. If you like a compact juicer that sits upright in your kitchen without taking up a lot of counter space, this is your juicer.
---
PROS
Heavy-duty motor
Cups are easy to handle
Filters juice easily
Easy to clean
10-year warranty on the motor
CONS
Can't handle tough vegetables
May have fine pulp leftover in the juicing process
3. Breville BJS600XL Fountain Crush Masticating Slow Juicer
Editor Rating:
Breville usually makes high-end kitchen appliances and gadgets. Its BJS600XL masticating slow juicer is no different.
This high-tech beauty has a 240-watt motor that is ultra-quiet and powerful at the same time.
You control the direction on the auger if any tough fruits or vegetables get stuck in the juicer.
Wait for the juicer to come to a complete stop, push the reverse button, and wait for the pulp to dislodge before continuing.
Cut up large pieces, such as very long carrots, into smaller chunks for best results. This has a very compact design at less than nine inches across, so it fits easily into the corner of your kitchen counter.
Just move it out, place the juice cup under the spout, place the pulp cup under that spout, and turn on the motor. Breville includes a two-step safety feature before you can even start the motor. All parts must be in place, and the lid must lock before the motor runs.
Run water through the juicer to clean it in between batches. The disassembled parts, including the filter cup, clean up easily under warm water thanks to the cleaning brush.
PROS
Compact design fits easily into your kitchen
Powerful, 240-watt motor
Quiet operation
Reverse mode to get pulp unclogged
Easy-clean feature
CONS
Motor may freeze eventually
Large vegetables just wrap around the auger and don't juice well
Final Verdict
For the best masticating juicer, in my opinion, splurge and spend money on the Omega J8004 Nutrition Center.
That's because it does so much more than make juice.
It makes baby food, smoothies, nut milk, nut butter, and salsa. It weighs more, and it takes up more shelf space, but this kitchen gadget is a work of art that acts as a food processor, blender and homogenizer all in one tool.
The other Omega masticating juicers tie for second place. Breville is not far behind due to its compact model and heavy-duty motor. If you're going to spend this much on a masticating juicer, get one that is powerful and lasts longer. A 240-watt motor is the way to go.
Which is the best masticating juicer?  Decide for yourself from this review of three of the best slow juicers and pick the ultimate masticating juicer for your home today. Healthy juicing for 2020.