Best Masticating Juicer
The best masticating juicer may cost you a pretty penny, but fans of this type of juicer believe the cost is well worth it. There are two main types of juicers on the market: centrifugal juicers and masticating juicers. A masticating juicer is also referred to as a slow juicer or a cold press juicer.
 Centrifugal juicers use a spinning action, or centrifugal force, to extract juice from fruits and vegetables. The best masticating juicer uses a chewing action, much like you chew your food, to extract juices.
Unfortunately, masticating juicers are more expensive than centrifugal juicers. The reason involves the process behind the juicing. Both types of juicers take in the food from the top.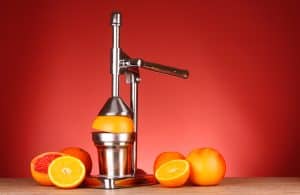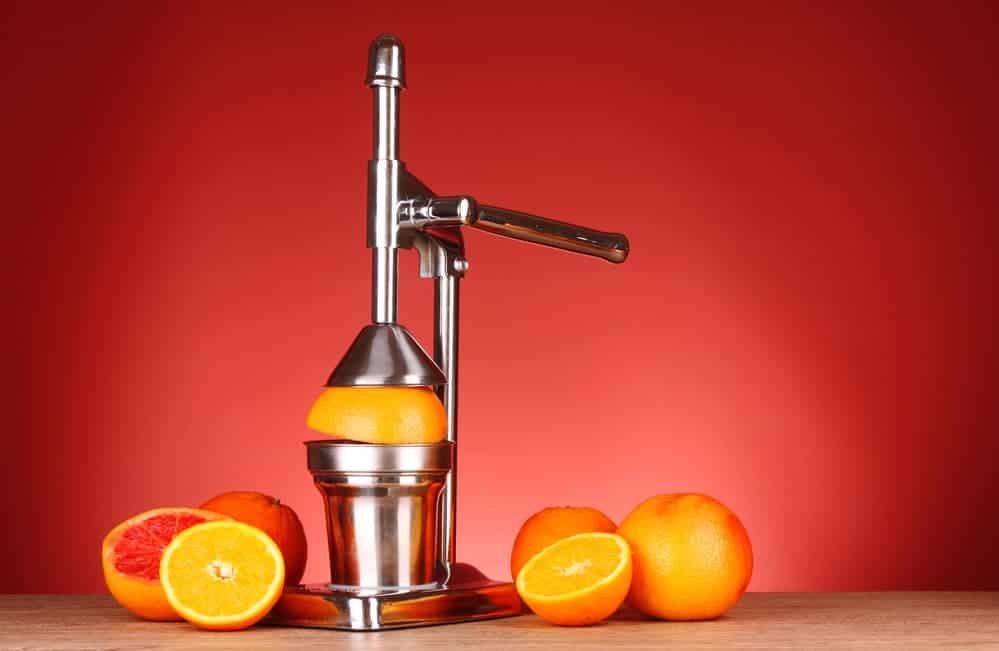 Centrifugal juicers work faster, and you have a cup of juice in no time. The fast-spinning of the centrifugal juicer heats up the juice and adds oxygen. Both the heat and oxygen mean the juice has a smaller shelf life and more nutrients evaporate into the air.
Masticating juicers are slower, but they extract more juice and more nutrients while leaving the pulp behind. You might hear masticating juicers also called cold-press juicers or slow juicers but they are essentially the same.
Here are some selling points to look for when it comes to masticating juicers, followed by 10 of the best on the market today.
Find the best masticating juicer that suits your needs from the reviews below.
Best Masticating Juicer Explained
Masticating juicers have a few things going for them that centrifugal juicers may not have. Here are some of the main aspects to examine when choosing a masticating juicer.
   Using The Masticating Juicer 
Masticating juicers should be able to turn just about any fruit or vegetable into a pulp. Some of the best masticating juicers have add-ons that allow you to process citrus, leafy greens, and other tough-to-juice items.
When you turn more items into juice, you get a healthier drink with better nutrients. Because you want your freshly squeezed juice to taste great, a more versatile masticating juicer means you get a product that's nutritious and delicious.
Juicers may also have attachments that help turn nuts into nut butter as well as a mincing function for herbs and spices. Some juicers can even grind coffee with the right attachment.
Look for the best masticating juicer that touts the ability to turn anything it touches into a liquid or very fine particles. Then it needs the quality to back up that statement.
Look for several attachments
See if the masticating juicer can grind just about anything
   Cleaning The Masticating Juicer
Masticating juicers use teeth to grind juice out of fruits and vegetables. These teeth can be hard to clean, but they are a vital mechanism that makes this entire type of juicing worth it.
Look for a masticating juicer that is easy to clean. Some of the best slow juicers use a self-cleaning function that cleans the apparatus before you send fruits and vegetables through the mechanism.
After you're done juicing, you clean the main part of the juicer in the sink with hot, soapy water. The juice reservoirs might be dishwasher safe, but the bulk of your masticating juicer needs regular hand washing to maintain its efficiency.
Self-clean options make it easier to clean
Make sure you can clean the teeth
  The Capacity Of The Masticating Juicer
Juicers might have wide ranges of capacity. If you're going to spend upwards of $250 on even the least expensive masticating juicer available, you may as well buy the best masticating juicer that produces a lot of juice at once.
Here's why:
Fresh juice from fruits and vegetables extracts tons of beneficial vitamins and minerals from these foods. When you drink more juice, you get more nutrients out of your foods.
You may as well get a high-capacity juicer so you get higher amounts of nutrients in one sitting. An extra half cup or a cup of juice can add even more power-packed items to your daily diet.
Some masticating juicers have a large capacity
Try to get the largest one you can so you can get as much nutrition as possible
  Speed of the juicer
Although centrifugal juicers are faster, masticating juicers can still produce juice in a very short amount of time. Find a masticating juicer that makes a lot of juice in a short amount of time for you.
The best masticating juicer has variable speed selections for when it shreds soft fruits and vegetables versus hard ones. It takes a lot less power to juice a tomato or strawberry versus celery or cantaloupe.
Powerful masticating juicers should be able to juice anything
Find a slow juicer that has several speed settings
Other Considerations
Pulp: Masticating juicers may come with different pulp screens that filter out the pulp from the juice. Finer screens leave behind more pulp, while screens with larger holes put more pulp in the juice.
Quiet: If you have other people asleep in the house, a quiet masticating juicer is the way to go.
Price: Masticating juicers are more expensive than centrifugal juicers. Expect to pay $250 on the low end versus more than $500 for a high-end masticating juicer, although the popularity of these juicers may drive prices down.
That being said, it's time to examine 10 of the best masticating juicers you can buy today so you can choose the best juicer for making your juices.
1. SKG Premium Slow Masticating Juicer
SKG's premium 2-in-1 anti-oxidation slow masticating juicer touts the fact that high-quality construction prevents nutrient loss on several levels.
The 150-watt motor juices at 65 RPMs to prevent heating the food. A sealed valve quickly separates the juice from the straining mechanism.
A sealed valve also keeps the juice in the reservoir until you're ready to pour it out.
Juice can be kept in the refrigerator for up to three days after juicing. The pulp goes out the backside of the juicer into a separate container for easier clean-up. Just dump the pulp into your compost pile and you're ready to go for the next batch.
The manufacturer claims this juicer can extract 85 to 90 percent of the juice from an orange, 65 to 75 percent of juice from an apple, and 42 to 47 percent of juice from a carrot.
You may have to go through several carrots to get the full nutrition of these vegetables, but the juicing is well worth it considering it saves time over chewing and eating these foods as a whole.
This versatile machine also acts as a food processor that comes with a slicing and shredded blade. Slice potatoes carrots and cucumbers, or shred lettuce, cabbage, and cheese. This masticating juicer comes with an adjustable food pusher.
PROS
Quiet motor
Anti-oxidation system
Makes a lot of juice
Two-year warranty
Easy cleaning
CONS
Masticating screw may jam
Add hard vegetables slowly
May not juice soft fruits or vegetables well
2. Gourmia GSJ-300 Electric Masticating Juicer
Editor Rating:
Gourmia's GSJ-300 masticating juicer claims it can juice whole fruits and vegetables without precutting them thanks to the wide-mouth feed tube and food pusher.
A low-RPM motor keeps the juice from oxidizing quickly, while all of the plastic parts of the juicer are BPA-free and dishwasher safe.
This masticating juicer comes with two 33.8-ounce jugs, both of which have easy-to-grasp handles.
One is to catch the juice, and the other serves as a pulp tank. At more than 32 ounces, you can make up to four one-cup servings of juice at a time.
You can drink some fresh and save the rest, or have a veritable smorgasbord of 32-ounce goodness all at once. Each jug has a spout for easy pouring.
One filter removes the foam before the juice exits the device, while another filter reduces pulp as much as possible. A valve keeps the juice from pouring out until the container is full. This keeps the juice from oxidizing faster.
Color-coded parts help you visualize what's happening inside the juicer. White filters strain fine particles, while the distribution valve is yellow.
Clear plastic on the outside lets you see what's going on everywhere else. The plastic parts disassemble easily for cleaning. You can even clean the spiral teeth that extract the juice.
PROS
A valve keeps juice inside until filled.
Color-coded parts for easy assembly and seeing the juicing process
Large plastic bins to catch juice and pulp
Whirling action keeps the foam on top and in the juicer
Disassembles easily for cleaning.
Price, but you get what you pay for
CONS
Juicer may lock and jam when dealing with hard vegetables, such as carrots
Hard to clean juice spout
Lots of pulp in the juice
3. Omega J8006 Nutrition Center Juicer
Editor Rating:
Omega's J8006 Nutrition Center is a beauty to behold. Unlike other masticating juicers, this one is more horizontal than vertical.
Out of nearly 2,900 reviews on Amazon, this is the highest-rated and best masticating juicer sold by the e-commerce giant. It could be considered as a great masticating juicer and one you should check out further.
This model comes in eight colors, but the awesome features are what make this masticating juicer a top buy.
The handle makes it easy to transport, and you'll need that because this heavy-duty juicer weighs 18 pounds. The plastic parts of the juicer assemble easily at the end of the motor.
The auger turns at 80 RPMs rather than 60 to 65 RPMs in slower models. Compared to more than 1,500 RPMs on centrifugal juicers, this model still keeps your juice in good enough shape to store for 72 hours afterward.
The versatility of this masticating juicer is why so many people love it. You get fantastic juice from kale, celery, cucumbers, and even wheatgrass. However, with the included attachments you can make so much more.
Grind coffee for a fresh cup of joe every morning. One extruder lets you make fresh pasta noodles. The food processor attachment is perfect for making salsa and chopped salad. A homogenizer attachment allows you to make fresh baby food, nut butter, and fresh, frozen desserts.
Omega touts a GE auger that is eight times stronger than comparable augers in other models. The auger is the spinning device in the juicer that masticates the fruits and vegetables.
If the auger isn't strong enough, it jams and it won't turn. A strong auger with low RPMs is what you need for perfect juice. The price is in the middle range, but that's a good thing.
That means the company put some thought into the construction without using the cheapest parts available just to get a juicer on the market. Omega really thought this one through, and it shows. Omega warranties the motor for 15 years.
Is this the best masticating juicer for you? 
PROS
Strong motor and auger for great juices at low speeds
Attachments for making all kinds of homemade foods
Easy-to-grip handle for carrying
Easy-to-assemble plastic parts, including auger
Plastic parts clean easily with an included brush
CONS
Heavy
Hard to see what's going on in the juicer
Not as quiet as other juicers
4. Hurom Premium Masticating Slow Juicer
Editor Rating:
Hurom manufactures a great vertical juicer that uses the same powerful auger as the Omega J8006 model.
Hurom uses its slow-squeeze technology to produce high-quality juices without losing vitamins and enzymes present in the fruits and vegetables.
This easy-to-use vertical juicer has a pulp level lever that lets you control how much fiber you get you in your juices and smoothies.
If you want less pulp, put in the fine strainer. If you want more pulp, the coarse strainer is the way to go. This versatile juicer creates baby food, smoothies, and nut milk as well as nutritious juices from leafy vegetables, apples, kale, and wheatgrass.
The pulp comes out nearly dry, so you get a lot of juice squeezed out of every fruit and vegetable. This juicer weighs nearly 20 pounds, so it's heavier than the Omega model. The manufacturer warranties parts for two years and the motor for 10 years. You even get a recipe book as an added bonus. It is the best masticating juicer for controlling the amount of pulp fiber you want in your juices.
PROS
Powerful auger and motor
Dry pulp
Filtration options
CONS
Heavy
Need to chop some big fruits and vegetables
5. Omega J8004 Nutrition Center Masticating Juicer
Editor Rating:
Omega's J8004 is the smaller cousin to the J8006, yet it is just as powerful.
At 80 RPMs, it squeezes every bit of juice out of fruits and vegetables, and it does so quicker than comparable masticating juicers.
The combined auger, torque, and motor create the equivalent of a two-horsepower motor.
Omega touts a two-stage juicing system that extracts as much juice as possible. First, it crushes and fruits and vegetables. Then the pulp is squeezed in the second stage to extract even more juice. 
The juice comes out of the bottom spout, while the pulp goes out of the extruder end.
Much like the other Omega juicers in this review, the extruder creates pasta, nut butter, salsa, baby foods, and smoothies with ease as a versatile food processor. Four tiny plastic feet keep this juicer above the countertop. This juicer could be the best masticating juicer for its versatility.
PROS
Easy to assemble and clean
Quiet motor
Versatile
CONS
Heavier than most vertical juicers
6. Omega J8003 Single-Gear Masticating Juicer
Editor Rating:
Consider the Omega J8003 the younger sibling of the J8006 and J8004. It costs less, has a smaller motor and the extruder is smaller.
Yet, it has all of the same features as the J8006 and J8004 with 80 RPMs, a dual-stage juicing system, and a versatile extruder that makes pasta, ground herbs, baby food, nut butter, and smoothies.
It cannot make nut milk unlike the other Omega juicers in this review so it might not be the best masticating juicer for you if you need to make nut milk.
Stainless steel mesh filters the pulp from the juice, and a stainless steel sieve completes the job by removing the foam from the juice. Both functions create a nearly dry pulp and lots of juice.
The major difference between this masticating juicer and the other two from Omega involves the size and power of the motor. This item weighs about one pound less, and that's because the motor is smaller.
You may not get as much power out of the motor, but this product works just as well as the others in the Omega line if you want to juice fruits and vegetables. Omega makes some of the best slow juicers on the market.
PROS
Smaller than other
Omega products
Stainless steel parts easy to clean
Powerful two-stage juicing system
CONS
Smaller motor
Can't make nut milks
7. Big Boss Heavy-Duty Masticating Slow Juicer
Editor Rating:
Big Boss seems to be a misnomer for its masticating slow juicer. In reality, this machine is very compact. The juice cup sits underneath the spout while the pulp collects at the end of the contraption.
Stainless steel mesh filters the pulp from the juice as the auger spins around.
The entire juicing process, from assembly to clean-up, takes about 20 minutes total.
A brush cleans pulp out of hard-to-reach places, while the plastic and metal parts of the spout disassemble so you can clean them individually.
Unfortunately, some of the flimsy plastic parts tend to break easily. This is true for the juice cup that catches the juice.
You might have a hard time getting the cup in and out of its mount, which could lead to even more breaks, cracks, or leaks. Although this is a compact juicer, it may not be worth the lower price. Compare with the other best slow juicers reviewed here.
PROS
Compact and it weighs less (10 pounds) compared to other masticating juicers at 14 pounds
Easy to use, assemble, clean and disassemble
CONS
Cup breaks easily
Need to cut fruits and vegetables before juicing
8. SKG New Generation Anti-Oxidation Slow Masticating Juicer
Editor Rating:
SKG comes through again with this beautiful New Generation slow masticating juicer.
The juicer comes with a massive 250-watt motor to handle even the toughest of vegetables at 43 RPMs.
The chute is 3.15 inches wide, so it can handle larger fruits and vegetables.
Much like the other SKG model in this review, a valve keeps the juice inside until you're done juicing.
This reduces oxidation of the juice before it even hits the cup. A stainless steel filter on the inside separates the juice from the pulp. The pulp goes off to one side while the juice comes out of the front spout.
The foam and pulp are filtered out by a second filter. For Amazon customers, free tech support is included.
You get a 30 days Amazon backed return policy. After that, the manufacturer has a two-year warranty on parts. If you like a compact juicer that sits upright in your kitchen without taking up a lot of counter space, this is your juicer.
---
PROS
Heavy-duty motor
Cups are easy to handle
Filters juice easily
Easy to clean
10-year warranty on the motor
CONS
Can't handle tough vegetables
May have fine pulp leftover in the juicing process
9. VonShef Digital Slow Masticating Juicer
Editor Rating:
VonShef also makes a compact, vertical design similar to the SKG models. Vonshef make some of the best slow juicers.
The bottom part looks like a blender, with the middle part similar to SKG engineering and a wide-mouth chute on top. Unlike the SKG products in this review, the VonShef has 80 RPMs of power instead of 65. That means it produces juice faster while remaining cool and powerful.
You get two jugs with this juicer, one to contain the juice and another to contain the pulp.
A bush helps you clean the insides thoroughly, and a pusher keeps the fruits and vegetables moving forward into the juicing chamber. A stainless steel filter helps separate the pulp from the juice.
Three buttons control this masticating juicer, and a digital readout above the buttons shows what speed you're on. One button turns the juicer on and off, another has a slow speed and another activates a faster speed.
VonShef has an easy-clean feature simply by running water through the machine. Otherwise, all non-electric parts are dishwasher safe. You can easily disassemble the chamber to clean everything.VonShef has a lighter juicer at just 10 pounds.
It might have trouble with thicker fruits and vegetables, so make sure you chop up the tougher ones so the juicer doesn't struggle.
PROS
Compact design fits easily onto a kitchen counter
Weighs less than other juicers of similar size
Works well at 80 RPMs
CONS
Compact size may mean less-quality parts and a smaller motor
May not be able to handle tough vegetables
10. Breville BJS600XL Fountain Crush Masticating Slow Juicer
Editor Rating:
Breville usually makes high-end kitchen appliances and gadgets. Its BJS600XL masticating slow juicer is no different.
This high-tech beauty has a 240-watt motor that is ultra-quiet and powerful at the same time.
You control the direction on the auger if any tough fruits or vegetables get stuck in the juicer.
Wait for the juicer to come to a complete stop, push the reverse button, and wait for the pulp to dislodge before continuing.
Cut up large pieces, such as very long carrots, into smaller chunks for best results. This has a very compact design at less than nine inches across, so it fits easily into the corner of your kitchen counter.
Just move it out, place the juice cup under the spout, place the pulp cup under that spout, and turn on the motor. Breville includes a two-step safety feature before you can even start the motor. All parts must be in place, and the lid must lock before the motor runs.
Run water through the juicer to clean it in between batches. The disassembled parts, including the filter cup, clean up easily under warm water thanks to the cleaning brush.
PROS
Compact design fits easily into your kitchen
Powerful, 240-watt motor
Quiet operation
Reverse mode to get pulp unclogged
Easy-clean feature
CONS
Motor may freeze eventually
Large vegetables just wrap around the auger and don't juice well
Final Verdict
For the best masticating juicer, in my opinion, splurge and spend money on the Omega J8006 Nutrition Center.
That's because it does so much more than make juice.
It makes baby food, smoothies, nut milk, nut butter, and salsa. It weighs more, and it takes up more shelf space, but this kitchen gadget is a work of art that acts as a food processor, blender and homogenizer all in one tool.
The other Omega masticating juicers tie for second place. Breville is not far behind due to its compact model and heavy-duty motor. If you're going to spend this much on a masticating juicer, get one that is powerful and lasts longer. A 240-watt motor is the best choice.
Which is the best masticating juicer?  Decide for yourself from this review of the ten best masticating juicers and pick the best masticating juicer for your home today. Healthy juicing for 2022.